Upcoming events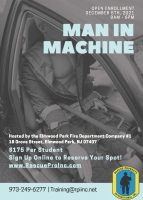 "Man in Machine" incidents can involve something as simple as a ring stuck on a finger, and may be as complicated as an entire limb entangled in an enclosed auger. This course focuses on those situations, from the simple to the very complex. Without adequate training, the actions of the first responders may be ineffective or even worsen the situation. This program includes work, modular practical tool stations, and "hands-on" extrications in real-life scenarios. This course is designed to help achieve "Operations" and / or "Technician" level training in the Vehicle and Machinery Rescue disciplines as outlined in NFPA 1670 (Standard on Operations and Training for Technical Search and Rescue Incidents). PPE required includes eye protection, leather work gloves, pants (no shorts), technical rescue or firefighting helmet, and structural firefighting OR USAR gear.
Sunday December 5th, 8am - 6pm
Hosted by the Elmwood Park Fire Department, Company #1
Maximum Students - 40
Cut Off Date is 11/30/21
$175 per student 6 NJ EMT CEU's APPROVED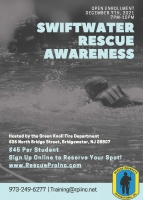 Swiftwater Rescue Awareness
December 7th, 2021
Hosted by the Green Knoll Fire Department
606 North Bridge Street, Bridgewater, NJ 08807
Maximum Students - 50
Cut Off Date is 12/4/21
$45 per student
RPI is offering a Swiftwater Rescue Awareness open enrollment program that will meet technical rescue qualifications for NFPA 1006 & NFPA 1670. This 3-hour lecture will review the risks and dangers of urban flood and current fed water rescues and is part 1 of a 4-part program. Pre-Registration is required, all students will receive certificates following successful completion of the program. Checks, cash and purchase orders accepted.
Registration opens at 6:30pm
Class starts at 7:00pm